Annette Brill Bergstresser
What do a camp director, mental health therapist, pastor, discipleship worker and preschool teacher have in common? They're among 29 students who are pursuing a seminary degree at a distance this year through AMBS's MDiv Connect program.
From their homes across the United States and as far away as British Columbia and Senegal, they're taking a combination of online and hybrid courses, connecting with their professors and fellow students through Moodle, Google Hangouts, Skype and one-week visits to campus.
Meet nine of our MDiv Connect students:
Amos Shakya, a pastor at Living Water Community Church in Rogers Park on Chicago's north side, is a first-year Connect student. Originally from Nepal, he lives with his wife and daughter in Chicago. He is interested in mission, evangelism, theological studies and pastoral care and counseling. After completing the Journey program through AMBS, he decided he wanted to continue his theological education, so he enrolled in the MDiv Connect program.
"As I am a pastor and a father who has a lot of responsibilities to fulfill, the MDiv Connect program is a perfect program because I can't see myself and my family moving to AMBS to study. So far it has been a great experience to study in the Connect program."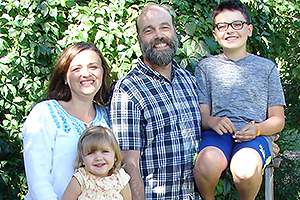 Ian Funk of Surrey, British Columbia, pastors at Langley (British Columbia) Mennonite Fellowship and teaches singing at Trinity Western University. He and his wife, Tamara Hummel, have two children. He's new to the Connect program this year.
"I want to learn so much about being a follower of Jesus and about what it means to come together as the body of Christ," he says. "I am an Anabaptist and wish to grow more deeply into this identity and practice. As much as I would like to fully immerse myself in AMBS, my life, heart and responsibilities are at home with my family and my church. Connect allows me to stay home and experience AMBS."
Karen Martinez, a mental health therapist at Multilingual Psychotherapy Centers in West Palm Beach, Florida, is pursuing a Master of Divinity in Pastoral Care and Counseling through the Connect program. Originally from Honduras, she has also lived in the Bronx and is now a member of Grupo Familiar Anabautista de West Palm Beach (West Palm Beach Anabaptist Family Group).

"Taking classes online through the Connect program works for me because I'm not able to attend on campus due to the distance. My first semester was very hard because I have been out of school for a long time and I was not familiar with anything online. Thank God that throughout the semester I was getting familiar with the Moodle system. I had a great experience attending LEAP [Leadership Education in Anabaptist Perspective] week in August and getting to spend time with my classmates."


Margaret De Jong of Fredericton, New Brunswick, Canada, is currently discipling new followers of Jesus in Senegal with Mennonite Mission Network. She chose the Connect program to be able to stay in ministry while studying from afar, and was part of the first group of Connect students in the fall of 2013.

"One of the reasons I wanted to go to seminary was to have a better understanding of Scripture so I could help others understand the Bible better," she says. "I have loved how I can be in my ministry setting and learning at the same time — applying what I'm learning in my context."

AMBS's financial aid incentives for Canadian students have made a difference for Margaret: "I so much appreciate that AMBS tuition is at par for Canadians, and that Connect students are considered full-time students for [need-based] financial aid."

Margaret comes to campus about twice a year and was on campus for a full semester in 2014; otherwise, she's been taking one three-hour course per semester. She says she enjoys her online conversations with classmates, adding, "This is an awesome learning community!"


Matt Troyer-Miller pastors full time at Wood River Mennonite Church in rural Wood River, Nebraska, where he lives with his wife, Elizabeth, and two children. He started in the Connect program when it began in the fall of 2013.

"I wanted to take some classes from a Mennonite seminary, and moving was not an option," he says. "One thing I especially appreciate is the relationships I'm building with my professors and fellow students online. While it may be harder to build relationships online, I'm able to get to know people a little bit. Then, when I encounter them again in hybrid classes, we have been able to quickly become friends because of the trust built online."
Michael Unruh was an MDiv student at AMBS in Elkhart in June 2016 when he accepted the position of executive director at Camp Mennoscah, a Mennonite camp near Murdock, Kansas. He and his wife are now living in Wichita, Kansas, and Michael is continuing his seminary studies through the MDiv Connect program.

He says he chose the program because it would allow him to keep working toward his MDiv while serving in a full-time ministry role: "When I was deciding whether or not to accept the position at Camp Mennoscah, the Connect program at AMBS was a major factor."

"In my first year of study on the AMBS campus, I always enjoyed having Connect students join us on campus for hybrid courses, and now I look forward to joining that number! The campus experience is great, but the Connect program is also a practical option for those who are not able to commute or move to AMBS."


Rachelle Luitjens lives in Olds, Iowa, and serves half time as co-pastor of Sugar Creek Mennonite Church in Wayland, Iowa, with her husband, Nathan. In her other half time, she says she takes seminary classes and runs around after their three boys. She had taken a few classes before she started in the Connect program in the fall of 2014.

"I chose the Connect program so that I could pursue an MDiv while continuing to work and raise a family. Relocation wasn't possible. I had been frustrated by the lack of classes I could take in my location, and the Connect program opened up a whole new possibility," she says.

"The online and hybrid classes take a lot of effort in self-discipline, but they are also very good. One thing I especially like is that I 'see' the same people in classes over time, so we get to know each other quite well. It makes it even more fun during hybrid weeks when we can reconnect in person."


Renee Reimer serves as youth program director at Rainbow Mennonite Church in Kansas City, Kansas. She also works at a preschool and teaches voice and piano lessons. She officially started the Connect program in the fall of 2015 after having taken a couple of courses the year before as a way to test out seminary. She's now working toward an MDiv in Christian Faith Formation.

"The Connect program works well for me because it allows me to work in a church setting while taking courses," she says. "This is beneficial because it helps out financially as well as provides me opportunities to use my seminary resources right away in my current setting."


Sarah Schlegel co-pastors at Howard-Miami Mennonite Church in Kokomo, Indiana, with her husband, Ben. She's also a parent of two sons and serves as a contract editor for the Shine Sunday school curriculum through MennoMedia. She's been taking classes at AMBS since January 2008 and officially enrolled in the Connect program in the fall of 2014.

"Because I am a pastor and have young children, commuting two hours to AMBS every week for class was no longer possible," she says. "I am so thankful for the opportunity to take online and hybrid courses!"

"My professors have been extremely helpful in allowing me to do assignments and projects that connect to my interests and congregational situations. Everything I have written or prepared can be used in my current context, which is a wonderful blessing!"
---
We're Connect-ed
Students in group photo above: Front row (l. to r.): Angie Smith, Wichita, Kansas; Matt Troyer-Miller, Wood River, Nebraska; Hank Unruh, Newton, Kansas; Rachelle Luitjens, Olds, Iowa; Sarah Schlegel, Kokomo, Indiana; Elma Jessen, Bloomington, Indiana; Amos Shakya, Chicago, Illinois. Back row (l. to r.): Ian Funk, Surrey, British Columbia; Michael Unruh, Wichita, Kansas; Suzanne Ford, Fort Collins, Colorado; Jill Hofer, Freeman, South Dakota; Renee Reimer, Kansas City, Kansas; Dustin Finch, Jonesboro, Arkansas; Janette Gallagher, Corning, New York; Margaret De Jong, Senegal; Karen Martinez, West Palm Beach, Florida; Matthew Peterson, Tiskilwa, Illinois. (Photo by Melissa Troyer)